It's been overdue (much like me posting here), but my home studio is getting an upgrade.
My recording took a back seat with a major technology problem in my studio, leaving recordings completely unusable. So an upgrade has been needed.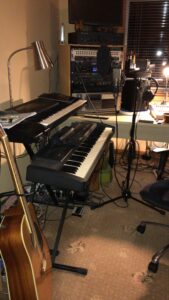 The upgrade started a few months ago when I was able to trade in my old audio interface and get a new one, which was great but it soon became apparent that my computer just wasn't coping.  So, without send you to sleep by droning on too long about technology… swapping out my Old music PC and my web browsing system, add a whack of RAM and a few nips and tucks later and we are almost there.
Meanwhile, my web browsing PC is getting a secondary purpose as a live stream controller! I am pretty excited about that! It will be great for me as an artist, making it easier than ever to keep in contact with my audience.
It should be up to spec in about 40 days….. but what I have today is enough to get my recording going again!
So, post tidy my home studio looks not too bad as a starting point… I'll leave any upgrade pics until after I have finished the process.